Indonesia: Doing the Right Thing
Wednesday, 21 January 2015 - 00:00
Recently elected Indonesian President Joko Widodo passed one of the first tests of his integrity credentials on 16 January when he postposed the inauguration of Commissioner General Budi Gunawan, his candidate to take over as chief of police, pending an investigation into corruption allegations.
One of the hallmarks of his campaign that helped him win the presidency in December was his commitment to fight corruption. If Gunawan had been appointed it would have sent a disappointing signal given that the Indonesian anti-corruption commission, the KPK, had announced that Gunawan was under investigation for bribery.
It is true that two months ago when President Widodo was drawing up lists for the cabinet, he had consulted the KPK about his prospective candidates and at that time the allegations against Gunawan had not been announced. But it still took a concerted effort from Transparency International Indonesia and its partners in civil society to mobilise a campaign on social media and on the ground against the appointment following the reports that the KPK was investigating Gunawan.
First there was an online campaign launched by Emerson Yuntho of Indonesia Corruption Watch(ICW) with an open letter to the president on Change.org. It amassed more than 30,000 signatures and escalated trending topics on Twitter such as #polisibersih (clean/good police) and #shameonyoujokowi.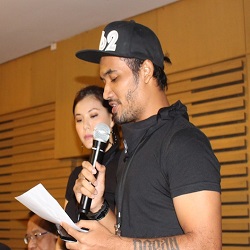 Actress Olga Lidya and musician J-Flo stating their support for the KPK at a press conference with civil society
The campaign brought together partners from civil society – including our Indonesian chapter, ICW and other anti-corruption and human rights NGOs – with President Widodo's volunteer group supporters – including filmmakers, actors and actresses, musicians and active social media personalities.
Dadang Trisasongko, the secretary general of Transparency International Indonesia, represented the civil society participants at a press conference held on Thursday, 15 January. The chapter also featured on a prime time TV programme to explain why Gunawan was not suitable for the job. In the days after the announcement, it organised three separate protests.
It is now for the KPK to continue its inquiry into the finances of Gunawan to establish the facts. Given that the commission has performed these types of inquiries well in the past, Jokowi can now concentrate on selecting clean candidates with less political pressure from inside and outside his party.
This campaign, where civil society joined with the KPK, shows how it is possible to establish a zero tolerance for corruption and ensure no impunity from investigation even for people who wield political power.
Author:
Ilham B. Saenong is Manager of the Anti-Corruption Information Center, Transparency International Indonesia
https://blog.transparency.org/2015/01/21/indonesia-doing-the-right-thing/
Share Link